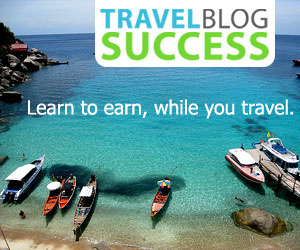 Experienced travel blogger and world traveler Dave Lee has just launched a new membership site, Travel Blog Success, aimed at helping people develop successful travel blogs. I was given a sneak peak before the launch and wanted to share some of my thoughts about it with you.
Travel Blog Success is a wealth of information about travel blogging as a whole. The membership site, with an introductory price of $75 (reduced from $135) for a plan of 12 lessons will save you time as your try to figure out two things many bloggers are after – readership and money. The 12 lessons cover some basic aspects of setting up a travel blog such as choosing a good domain name, ideas on formatting posts, and search engine optimization (SEO).
Usually if you stick with blogging long enough you'll figure these things out but Travel Blog Success will save you months and perhaps years of trial and error if you read through all of the lessons and interact on the community forum. You'll likely benefit most from the technical details of building a blog and the nuts and bolts of SEO. In the end though, you need to find your own voice, style, and niche within the travel blogging community to succeed.
In Addition To The Lessons
One of the biggest benefits of Travel Blog Success though is the community behind it. Dave has done a good job of bringing in writers from some very successful travel blogs such as Vagabondish and the Indie Travel Podcast. The forums are also full of a wide range of travel bloggers and an excellent place to network, something that is a vital part of building a successful travel blog.
There is also an active travel blog on Travel Blog Success, podcasts and audio interviews, and access to Dave himself.
Travel Blog Success isn't for casual travel bloggers but rather those looking to turn their websites into a business or take their blog to the next step. As for the cost there are two options, one for $29 per month for 3 months (a total of $87), or a one-time fee of $75. There is also a 60-day money back guarantee and compared to similar products the price is very reasonable for the blogging, SEO advice, and access to other bloggers you get.
Dave has developed two very successful travel blogs (both nominated for 2010 Bloggie Awards) GoBackpacking.com and MedellinLiving.com. I know the amount of effort Dave has put into creating Travel Blog Success and am confident it will be a thriving travel blogging community where most members (and their travel blogs) will benefit.