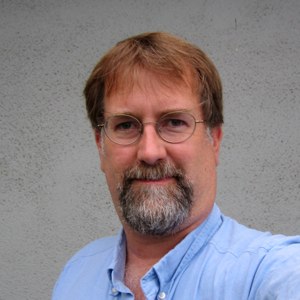 At the end of December last month I asked you what your travel blog goals for 2010 are and Chris of Amateur Traveler responded he wanted to build a business around his blog. Chris recently left his day job to peruse his dream and was kind enough to take a few minutes to answer some questions about how he plans to go about it.
Tell us how your site, Amateur Traveler started.
I am a podcast addict. I current subscribe to around 60 podcasts on a wide variety of topics. That number is down from 100 podcasts. So shortly after I discovered podcasting 5 years ago I starting thinking about what kind of a podcast I could create. When we had some friends over for a Memorial Day BBQ we started swapping stories and the best stories were travel stories. I started the Amateur Traveler shortly after that picnic.
What is Amateur Travel all about?
The Amateur Traveler is an online travel show that focuses primarily on travel destinations and the best places to travel. It includes both a weekly audio podcast and a twice monthly video podcast. It also includes travel news and resources.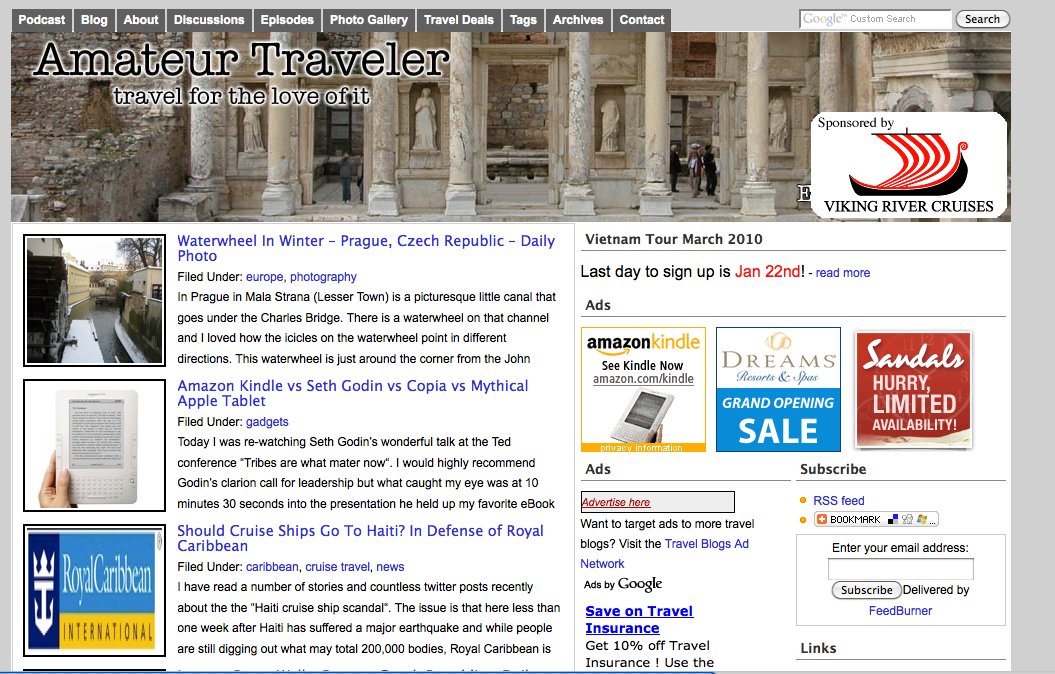 When did you decide to focus solely on Amateur Traveler?
I have been doing the Amateur Traveler for 4 and a half years part time. This means I have been working 60-80 hour weeks between a good day job and a great hobby. I had been at the day job (the VP of Engineering and Operations for a Silicon Valley internet company that creates and runs online communities) for 13 and a half years and it seemed to be time to pursue my passion and see if I could take the Amateur Traveler from a hobby to a business.
What is your business plan for Amateur Traveler?
1) start making calls to get ads on Amateur Traveler
2) create premium site (and some premium content) for Amateur Traveler
3) finish an eBook (free) on how to book travel to incent people to sign up for email list (almost done)
4) Amateur Traveler Amateur Traveler tours – first one is Vietnam in March, 2nd may be photography cruise in September
5) create a New Media Cruise / Podcamp@Sea in June
6) resell travel agent services to people who find how to book online travel to complicated
7) do more travel gadget blogging to get more affiliate revenue
8 ) create a California Travel site again targeted at more affiliate revenue
9)  Create cruises for nurses to take and get training – http://nursingatsea.com/
How are you supporting yourself now?
I am doing some part time social media consulting.
What do you think your biggest challenge has been thus far?
60-80 hours just on the Amateur Traveler is still not enough. I also have my son (the film / multi-media major) interning for me about 20 hours a week.
Any advice for other travel bloggers who may want to focus solely on blogging and turn it into a career/business?
I think that might be a bit too soon for me to say. Ask me again in 6 months. 🙂
Chris, I'll certainly take you up on that. I hope that you will all check out Chris' website, Amateur Traveler and listen to some of his podcasts for wonderful travel stories, and interviews.