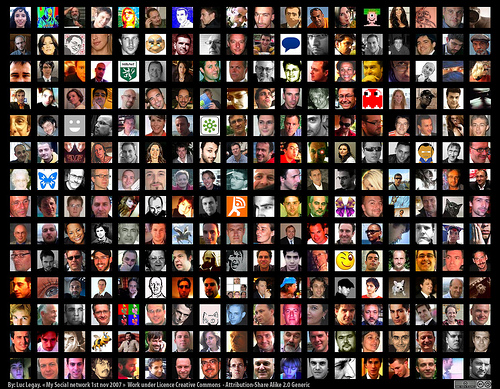 Connecting with other travelers is essential if you want to expand your travel blog. Social networks give you the opportunity to get in touch with readers outside of your blog comments and as they (and hopefully you) are actively traveling. This article isn't about any particular social network (if you're interested in that check out the social networks every travel blogger should be using) but rather how to be someone worth connecting with.
You need to provide useful, topical, and some personal information to increase your online presence through social networks to directly and indirectly benefit your travel blog.
Establish Your Persona
Maintain the same identity across all of the social networks you belong to. Have the same name, similar profile pictures, and same voice across all of them. This helps to establish your personality with other travelers and across the Internet. Your personality is closely tied to your travel blog – that's the reason people will continue to follow you.
People become attached to things they can identify with and social networks are where you can let your personality shine. Social networks are where you can show off a side of you that's a bit more fun and real than you would on your travel blog.
Have A Purpose
Just like your travel blog needs direction, so do your social networking accounts. Travel bloggers need to Tweet, update their Facebook statuses, and Stumble generally travel-related material. Don't let your social networks be the place where you rant about random events all the time or put vague messages like "blah today".
Social networks are an extension of your travel blog and as such you need to stay on topic when possible. It's important to not only maintain your identity across all of your social networking account but between your social network profiles and your travel blog. Think before you post and try to make everything count.
Make Them Part of Your Blogging Schedule
Hopefully you've established a travel blogging schedule for yourself and your posts. As soon as you join any social network however, you need to make time for it as well. Consider posting to your social networks as another regular blogging task. Update them on a consistent basis and don't neglect any of the accounts you set up. Try and see what social networks work for you and get rid of the accounts that don't.
If you're constantly creating new profiles on different social networks but never updating them you'll eventually lose the faith of your readers and the people that follow you there. It's vital to establish some sort of flexible routine and some basic goals like 'at least 2 tweets a day'.
Be Positive
Don't trash talk anyone and rather than post negative things help highlight many of the good things that are going on in the travel industry, your travel blog, and in your personal life (that's travel-related of course). Controversy is good to foster in your travel blog posts from time to time but you want to connect with other potential readers through the various social networks. The golden rule applies, if you don't have something nice to say, don't say it.
Remember that it goes both ways – be positive about others and they won't write bad things about you.
Connect, Don't Over-Promote

While it's important to establish a strong identity and inject your personality into your social networking presence don't get consumed by yourself. Don't always write about yourself – there are other people on those social networks who you should be connecting with. Don't get obsessed with drawing hits to your travel blog. It may work at first to bombard people with links to your latest posts but to increase your credibility online you need others to promote your material in the long run.
Promote and talk about all of the great things that other travel bloggers are posting and writing about. Not only will they reciprocate but you'll ultimately be helping your own travel blog by getting new ideas, finding out what your peers are writing about, and understanding that you aren't the only travel blogger out there.
Basics Not To Forget

Make it easy to contact you and reply to every personal message.
Have a link to your travel blog – almost all social networking tools have a place for urls.
Include a profile picture. The default picture won't cut it and shows that you're not serious about being social.
Take Your Time
Everything worth doing with your travel blog takes times and social networks are no different. Posting a flurry of updates only to realize your blog page views haven't tripled and you don't have a thousand followers shouldn't discourage you and cause you to give up. In fact that's the worst thing that you can do. Much like your travel blog people want to see that you're in it for the long haul.
It will take time for people to see that you're posting useful travel related material, talking about your peers, while getting to know a bit more about you at the same time. Plant the seeds of your travel blog in a few good places, be patient and persistent, and connect with as many like-minded people as you can and you'll expand your travel blog for years to come.
[photo by: luc legay]