Scroll down the sidebar of many a travel blog and you're likely to see a number of 80 pixel blog widgets hanging out in a small cluster. You may also have some on your travel blog, wonder what they're for, and ask yourself are blog ranking widgets worth displaying on your site. Blog ranking widgets are a trade off between traffic, Pagerank, loading times and a decision you'll have to weigh carefully to get the right balance.


What Are Blog Ranking Widgets?
Blog ranking widgets, which look a lot like the images above, are visual links back to ranking lists. Many of them often include your site's rank in the widget as well, announcing your clout to the world. They also typically have "follow" links (here's how external links work) going back to the front page of the list.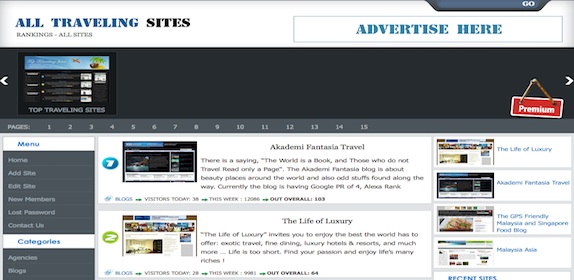 The Ranking Pagerank Cycle
All of those incoming links back to the list from the front pages of travel blogs gives many ranking sites a very high Google Pagerank. The front page of many of the ranking sites usually have the top 10, 20, or 50 sites (as many as possible without hurting Pagerank) so scoring a spot is good for your travel blog. How these sites actually rank their lists varies, although many of them base your score on your Pagerank itself, creating a little loop of reciprocal ranked links.
Disadvantages Of Blog Ranking Widgets
One of the main drawbacks of these widgets is that you don't get to control the code of the widget itself. (Of course you can modify it but doing so hurts you blog rank.) That can slow down how fast your site loads as the widget calls out to the ranking site to update you numbers and serve up that little widget image. With one or two widgets you won't notice this effect much but that more you add the bigger a problem it becomes. Now you're sacrificing loading time, a key factor in determining Pagerank for Google, and one of the most important metrics for keeping readers.
A Balancing Act
Initially, when your travel blog is on the new side, you can display these widgets in hopes of increasing your Pagerank. Once they begin to affect your loading time negatively though it's time to remove them. Using tools like Pingdom, Website Optimization, or UpTrends it will be easy to determine the specific load time of each widget. Remember, each time your page loads, the longer it takes (i.e. more than 5 seconds) the exponentially greater chance that you'll miss out on a reader sticking around long enough to discover your travel blog.
In fact gaining links for your blog, finding a niche, and fast load times are infinitely much more effective ways of developing an audience and establishing Pagerank on a successful travel blog.