This is a guest post by Shannon O'Donnell who uses freelance SEO as a way to fund continued travels.
Some of the top advice you read all over the Internet for good SEO practice is the idea of guest posting on other sites. This advice is solid at every level and works not only for SEO and Google link juice, but also for your site's visibility within your community. New bloggers don't traditionally come with a built-in audience unless you've been active on social media before your site launched, so with that in mind, you need people to see your name, your message, and your brand.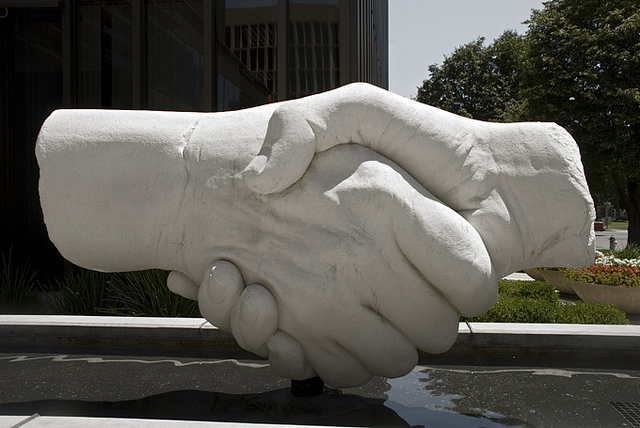 That's one of the more obvious strengths to guest posting, you build your brand and funnel new and relevant SEO to your website.
On the other side of this equation though, is that Google juice I mentioned–this is where a lot of people begin to go a bit gray in their understanding. Everyone tells you links help your website's Page Rank. But what about search engine rankings? How do we go from Page Rank (PR) to relevant search engine traffic?
What you Need to Know about the Google Algorithm
Knowing which sites consistently provide value is the core magic of the Google search algorithm, and to properly understand how you should be leveraging your guest posts, let's start at the Google algorithm. Google returns some of the most relevant and accurate search results of any of the search engines out there and the company hands-down dominates the search market. Bing is the runner up (and Bing's search algorithm fully powers Yahoo too), so that's really the only other game in town.
Google's algorithm is complex and no one outside of Google (and likely only a few people there) know the exact components. The algorithm is a formula that takes into consideration dozens of factors about your website, gives them different weights within the formula, and then combines those components to form the basis of search results.
These are a handful of the things Google considers when evaluating a website or blog post:
The age of your domain
Frequent keywords used within the site and those keywords other sites use to reference the site.
The freshness of the content on the website and relevancy (is there enough content, are people staying on the page when they click onto your site from the search results?
Page Rank: i.e. a numeric value assigned to your site ranking its value to the world wide web, mostly based on incoming links from other websites.
Those are the core basic components of the Google search algorithm and should give you a general understanding of how your site is found and placed within the search engine pages by Google.
How Incoming Links Effect Your Page Rank
We've analyzed the algorithm, now let's look at the incoming link your guest blog post will be sending to your website from the website you're guest posting on.
Your site's PR is nearly entirely dependent on a variety of incoming links from websites with a higher PR than yours (to find a site's PR, a quick and easy option is Page Rank Checker). Websites with a PR 4 and higher (sometimes arguably PR 5 and higher is optimal) are great target guest posting sites. These websites with higher PR will lend you some of their PR juice through Google when they link to you.
Basically, when a website links to you it is giving you a vote of confidence from their domain – they are giving you some of the Google trust they've earned over time. Get enough of these votes, from a variety of sites and sources, and you'll see your PR increase over time. Be forewarned though, Google only updates PR a couple times a year, so it may take time for incoming links to effect your officially shown PR.
How Incoming Links Effect Your Search Engine Results
Now we've come to the meat of the SEO reasons for guest posting, the keyword link juice (remember it's about sharing audiences and spreading your message as much or more than for SEO). When you're guest posting, you nearly always have the opportunity to include a personal bio either at the beginning or the end of the post. This bio is where you link back to your website, your projects, and your social media information. It's also your main chance to send yourself a targeted, keyword link.
Traditionally, you'd link to your site with your blog's name. That is one option, particularly if your site has a great keyword within the name. If it doesn't though, consider alternative descriptions that target your site's niche keyword.
Another option is to link to your site with its name, but then also build backlinks to a specific cornerstone piece of content on your site. If there is one invaluable resource you've put a lot of work into, include it! Add that to the bio, if you're doing an honest bio and you're writing related to your niche the site your guest posting for won't mind a link back to your site that includes specific keywords.
As an example, let's consider this fake bio as a perfect way to use guest posting to raise your site's profile:
ìSuzie Q blogs about deep-sea trout fishing and wrote a wonderful, free resource for fish-loving travelers, the ultimate list of trout fishing travel tips. If you love trout fishing too, why not follow her on Twitter and Facebook?!î
In this bio example, Suzie Q is ensuring she now has relevant incoming links for keywords related to her niche. The link itself will help her siteís PR and the keywords within the link tell Google what her siteís about when itís calculating her place in the search engine results pages.
Interested in learning more about SEO and how to use it to build a better travel blog? Get Traffic Now is a free resource I co-authored with Andy Hayes that breaks down the complexities of SEO into a do-it-yourself handbook ideal for both new and established travel bloggers!
Shannon travels around the world using freelance SEO as a way to fund continued travels. Follow her on Facebook and Twitter for travel stories and advice, and feel free to ping her if you have any SEO travel questions!
[photos by: Nicolay Corboy (shaking hands), Daniel Morris (Google speaker), YAIAGIFT (authority sweatshirt)]